Welcome to The Battle of Polytopia Wikia!
About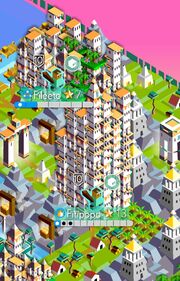 The Battle of Polytopia, formerly known as Super Tribes, is a turn-based world-building strategy game developed by Midjiwan AB. The player leads one of twelve tribes to conquer a square-shaped world by capturing cities. Cities earn resources that can be used to research technologies, train units to engage in combat, and develop the surrounding terrain to gain population. Be warned, however: the more cities that are added to the empire, the higher the cost of technological research... and the greater the area that must be protected from the endless onslaught of the other tribes!

The goal of the game is either to gain the highest possible score in 30 turns (Perfection), or to destroy all opposing tribes (Domination).

This Wikia is developed and maintained by fans and anyone can add or edit its content. The developer is not responsible for this content, but he does visit occasionally to answer questions, and the link to the wiki is also in the game.
News, Announcements and Updates
THE AQUARION HAVE BEEN RELEASED!
ANDROID USERS: DON'T LOSE HOPE! MIDJIWAN WILL MAKE THE AI-MO FREE ONE DAY!
Check out Midjiwan's stream of Aquarion HERE [1]
"THEY CAME FROM THE DEEP – eons at peace with turtle and crab – raged by stirring ships above. AQUARION RISE – defend the deep! Out June 8th."
The online multiplayer feature in The Battle of Polytopia is currently under development. Recently the "Atlantis" update has been released, introducing the new Aquarion tribe and its special units. A tribe with unicorns as game has also been teased, and there are also two available "TBD" slots for nonhuman tribes. There is also the new tribe "Quetzali" that is to be released on Thursday, October 19th. Mark your calendars!
Wikia Content
The Battle of Polytopia contains at least four confirmed Easter eggs (hidden features).
For community Research on spawn terrain, tribe origins and more, head here.
For FAQ and discussions about the game, check out our Forum!
The wiki also hosts a speedrunning page. Upload your best times!
Fan Creations
For glitches, memes, terrible spawns, and edits, go to Funny Pictures.
Fan Theories is the place to go if you like theorizing about possible lore and history of the tribes.
Join the unofficial Discord server here
Ad blocker interference detected!
Wikia is a free-to-use site that makes money from advertising. We have a modified experience for viewers using ad blockers

Wikia is not accessible if you've made further modifications. Remove the custom ad blocker rule(s) and the page will load as expected.