Welcome to The Battle of Polytopia Wiki!
About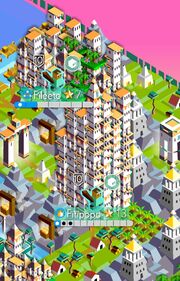 The Battle of Polytopia, formerly known as Super Tribes, is a turn-based world-building strategy game developed by Midjiwan AB. The player leads one of thirteen tribes to conquer a square-shaped world by capturing cities. Cities earn resources that can be used to research technologies, train units to engage in combat, and develop the surrounding terrain to gain population. Be warned, however: the more cities that are added to the empire, the higher the cost of technological research... and the greater the area that must be protected from the endless onslaught of the other tribes!

You may play in Single player, where the goal of the game is either to gain the highest possible score in 30 turns (Perfection), or to destroy all opposing tribes (Domination).

Alternatively, you could engage in a local multiplayer "Pass & Play" with your friends, or connect with them online and play games from the comfort of your homes!

This Wiki is developed and maintained by fans, and anyone can add or edit its content. The developer is not responsible for this content, but he does visit occasionally to answer questions, and the link to the wiki is also in the game.

Note: Due to issues in the past, new users might not be able to edit. That's OK, discuss in the forums with our community instead! :)
PolyNews
AFTER MANY MONTHS OF WAITING, ONLINE MULTIPLAYER HAS BEEN RELEASED!
The new ∑∫ỹriȱŋ special tribe has been released! Get ready for dragons, animal-headed beasts, a new star-producing building, and more!
ANDROID USERS: DON'T LOSE HOPE! MIDJIWAN WILL MAKE THE AI-MO FREE ONE DAY!
Recently the "Rainbow" update has been released, introducing the new ∑∫ỹriȱŋ special tribe, which has animal-enchanting abilities.
EXCLUSIVE Wiki Content
This content is exclusive to our wiki!
If you see this, your JavaScript might be disabled or DiscordIntegrator plugin isn't working. If the latter, please contact a wiki administrator.