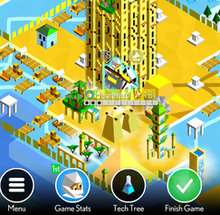 Tasks are special goals one can attempt to achieve over the course of the game, and award you with monuments, which grant 400 points of score and 3 population for the city it's built in.
Available Tasks
Edit
Explorer (Reward: Eye of God) - Starts upon researching Navigation, completed when every tile in the world is explored.
Ad blocker interference detected!
Wikia is a free-to-use site that makes money from advertising. We have a modified experience for viewers using ad blockers

Wikia is not accessible if you've made further modifications. Remove the custom ad blocker rule(s) and the page will load as expected.