For the actual in-game tribes, go here.
The Tribes
Edit
These are all the tribes created by Polytopia fans, in order of creation.
There are currently 21 fan-made tribes, which is more than the current amount of actual Polytopia tribes! Ten are on this page and the other 11 are here.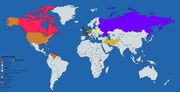 *note 1; if your fan-made tribe is not on the map that's because there is no place in the world on the page/form treat or the place isn't a place on earth
Note 2; the Frieso tribe and Regia Solis share Germany. Frieso only has the part around the North Sea but it's lined with the Regia Solis color to show that there are 2 tribes.
Ad blocker interference detected!
Wikia is a free-to-use site that makes money from advertising. We have a modified experience for viewers using ad blockers

Wikia is not accessible if you've made further modifications. Remove the custom ad blocker rule(s) and the page will load as expected.